Wellness Websites
HPN offers cutting edge technology to all of the groups, individuals and families we serve. We are your partner, walking your much cared about staff through the necessary steps to achieve the optimal state of wellness (whether that's mental wellness, physical fitness and health, financial wellness, emotional wellbeing, and more!).
On this page, you will learn about what makes our proprietary Wellness Management System (WMS) powered websites and web applications the very best option for your group's goals regarding health, wellness, quality care, risk management… including new ones triggered by COVID-19.
We've been designing custom sites, tools and solutions for over 22 years. Our experienced, skilled teams and archives offer affordable AND often "instant" solutions designed to offer you:
Secure compliant access to accredited, quality decision content and tools
Improved decision-making skills in health, care, work/family and other areas
Improved quality of care and medical outcomes
Improved the use of health care, benefits, EAP and other resources
Improved learning, management of chronic conditions and reduction of risks
Reduced and controlled health care costs, risks of inappropriate care, outdated treatments and complications
All these features are only a drop in the bucket of what we can offer, and we are confident there is not a better partner than HPN for your group's health and wellbeing. We would love an opportunity to discuss further how we can partner with you, and show you this great system first hand. Contact us TODAY for a live presentation and/or demo access to see for yourself, that you have found the solution for your organization's needs.
Contact Us Today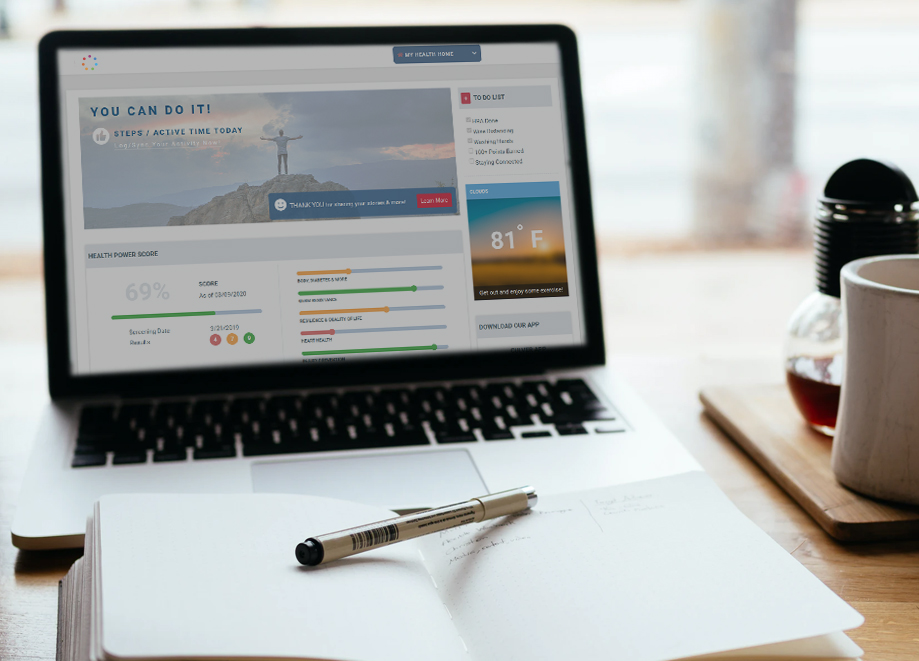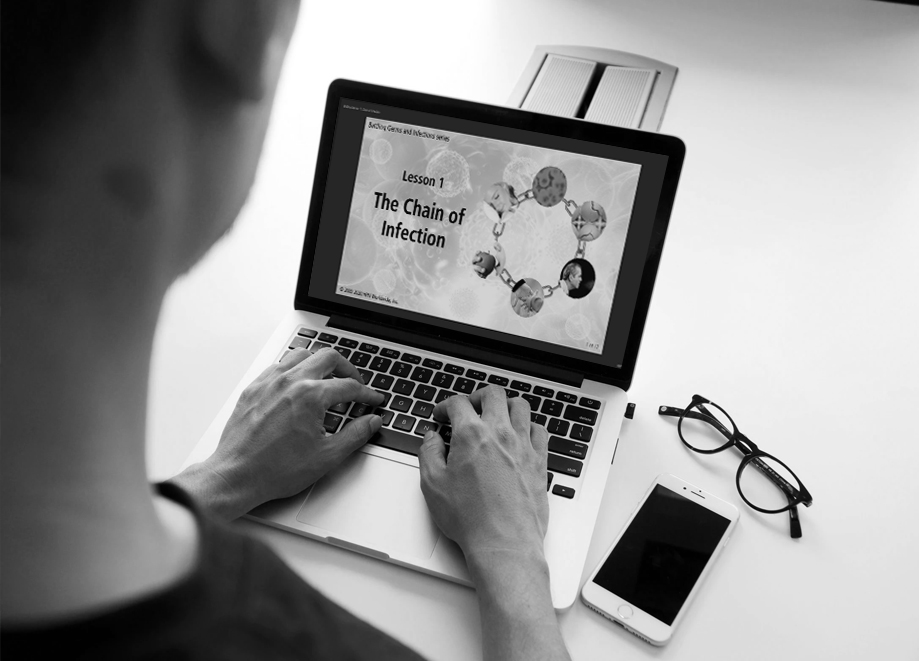 Wellness Management System (WMS)
Each organization which partners with HPN is given a unique, HIPAA compliant website of their own, as quickly as within 5 days of signing up (depending on initial needs), powered by our proprietary WMS web application! The WMS is a collection of tools designed to become your organization's one stop shop for all items health and wellness related. The WMS is at the core of every website providing incredible strengths and flexibility to each client we serve.
WMS is designed to function for small businesses, and well as industrial enterprise level to support hundreds of thousands of people simultaneously. Of the 400+ groups we serve, they range in size from 11 to over 70,000 individuals and families.
Highly secure and HIPAA compliant; as well as satisfying various other standards as well including ADA, NIST, ISO-27001, SSAE18, SOC 1, 2 & 3, and more.
Its Cloud-based, and completely customizable design allows for easily adding any size group, legacy data and archiving over time - including groups exceeding 100,000 individuals and families.
Designed with AI and Behavioral Science to provide everyone the an optimal experience, unique and adaptive to THEIR specific needs - designed to be customizable to your organization, admins, and users as you see fit, and based on their usage!
While many individual standalone tools do exist, to do much of what WMS brings together, no other application is better suited for bringing all aspects of health and wellness tracking into one, integrated software.
Wellness Dashboard
A one stop health and wellness dashboard which can be customized to your specific data and usage needs. The dashboard system uses behavioral science and cutting edge user experience design techniques, to bring the most critical and useful data to the forefront for your users.
The AI built into the dashboard can provide you with everything from alerts and improvement badges from wellness screening results (which WMS can import, store, and provide customized reports visually and in an easy to understand, layman design instead of doctor speak!), to simple recommendations for improving your health from our vast library of content, articles, videos and e-lessons, as well as action prompts and reminders based on local weather, fitness goals, available incentive programs, challenges and other goals!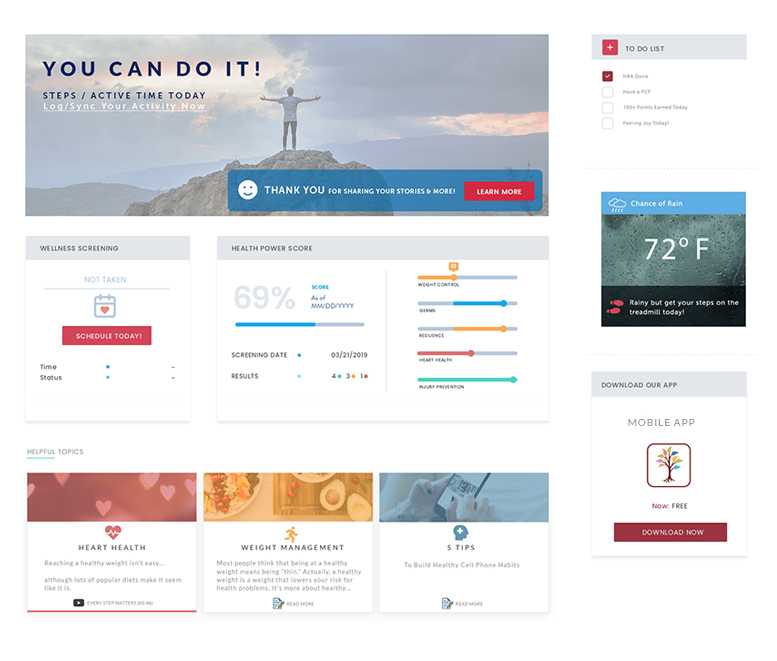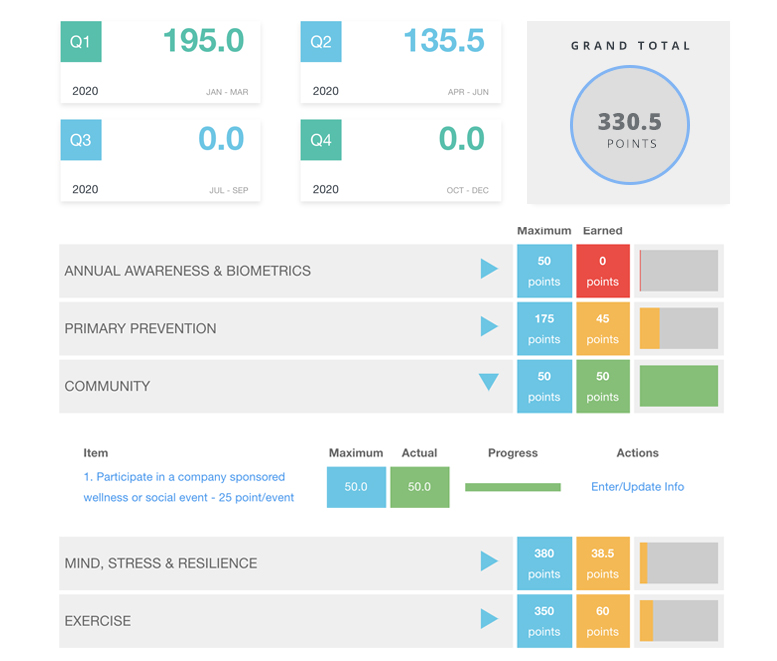 Wellness Incentive Programs
Wellness incentive programs have the abilities to help individuals and groups reach goals sooner by encouraging learning and actions that will make a difference.
Our wellness incentive program system offers proven designs tailored to offer flexibility for your own customized wellness incentive programs. Many formats available, sure to provide positive outcomes, such as tracking actions the user takes, as well as point-earning options, and more!
Wellness Incentive Program Options
35 years designing and administering over 100 designs — simple to complex
Standard designs & rule sets, as well as custom rules available
Eligibility options such as:

Relationship (spouse and dependents supported!)
Current active employees
Options unique for your new hires
Benefit coverage tracking
and more!

Consulting support - best practices, optimum engagement and compliance
Point Reward Program Options
Quarterly and annual time frame options
Points awarded for actions associated with better health, wellbeing, better care, productivity, relationships, quality of life and savings - personal, family, medical and other
Other features
User-friendly dashboards - status, to-dos, learn more, links to get things done…
Integrate wellness screening support, risk assessments & targeted results
Reasonable alternatives - many options, many automated, custom options
Compliance reports for HR, payroll, incentive eligibility/distribution
Admin level options - compliance overrides for exceptions, manage design elements, other
Wellness Screenings
HPN, and WMS make it easier for you to offer options for wellness screenings at onsite events, at local patient service centers, and through a primary care provider on your website!
You can schedule onsite events at worksites or other locations allowing individuals to make an appointment at the click of a button -or- make changes if needed. You can also have options on your website for getting a wellness screening done via a local patient service center of a national lab; and/or a primary care provider option.
These are only a few of the options available, and HPN will work with you to get the type of wellness screenings that work best for you!
Your WMS website will help everyone make the most of their results through our proprietary wellness screening dashboards and reports; and our our unique screening data management system is able to connect through HIPAA secure and high tech APIs to most national and other major labs (including Quest, LabCorp, hospital labs and others) to directly import each participant's wellness screening results, and convert it from the "doctor speak" format of HL7 files and other unreadable formats, into our beautifully designed and intelligent reporting dashboards; to help your users make sense of their screening data!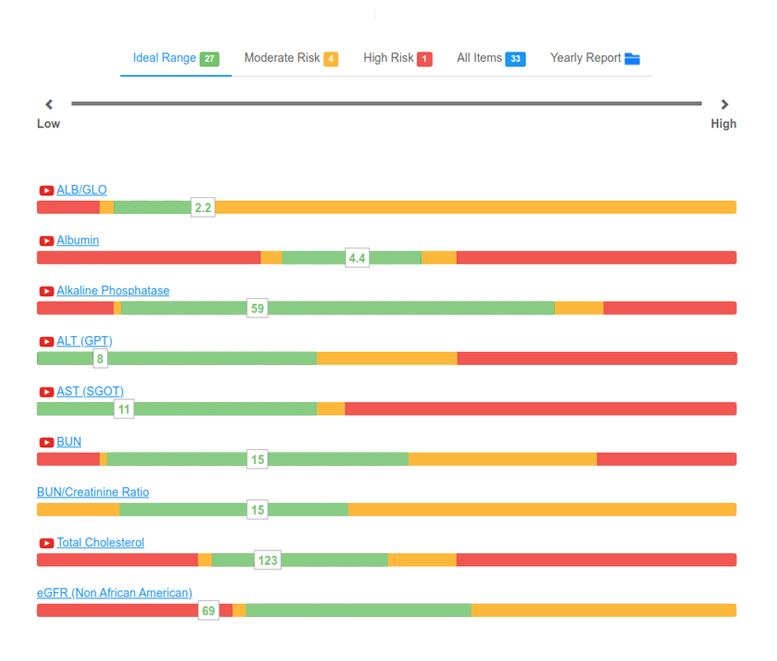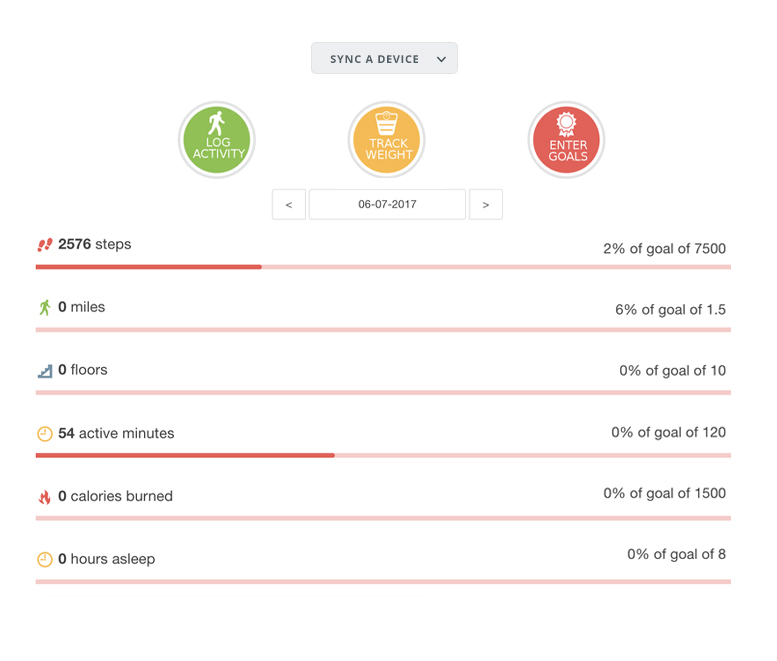 Fitness Tracker
If your organization's members enjoy the use of smart watches, and fitness trackers, they are going to love tracking their data through the Fitness Tracker component, which is one of the options you can elect when we design your custom WMS website for your organization.
Sure, there are many "steps trackers" and such out there. But very FEW that can track virtually every wearable device available, from one central location. Users of Apple Watches, Android WearOS Watches, Fitbit, Garmin, Samsung, and more can ALL find a centralized home for ALL data, filterable by type, or shown in aggregate from our proprietary Fitness Tracker.
And what's even better, the Fitness Tracker's data can sync throughout other areas of WMS, to tell your Report Cards what exercise you've accomplished, make AI and Behavioral Science based recommendations and feedback on your Dashboard, and bring relevant Knowledge Base, and E-Learning lesson content to you, based on your data!
Fitness Tracker is truly a unique software in that it allows you to track all of your wearables in one place, which in itself is invaluable, but also to use that data in the rest of the WMS platform for more intelligent health and wellness feedback!
Healthwise® Knowledgebase
HPN's WMS integrates the URAC-accredited Healthwise® Knowledgebase (HWKB) - a vast library of information, guidelines, decision tools, hundreds of videos, and information on over 5,000 topics spanning illnesses, injuries, conditions, test and treatment options, risks, prevention, when to call a doctor, home treatment guidelines, prevention, wellness and other topics.
It's like an internet search engine but better - medically reviewed, accurate, with no millions of hits or ads - saving time, hassles, money and lives. Imagine having your OWN quality, trusted search engine at your fingertips for your health, wellbeing and health care needs, goals and decisions - this is what the HWKB is all about!
The HWKB is also integrated in other key resources on each site using AI technology to bring helpful information, guidelines, videos, etc. into wellness screening results, dashboards and it can be integrated into available wellness incentive programs, challenges and fitness goals to ensure important resources that are personally relevant are brought to the attention of each person.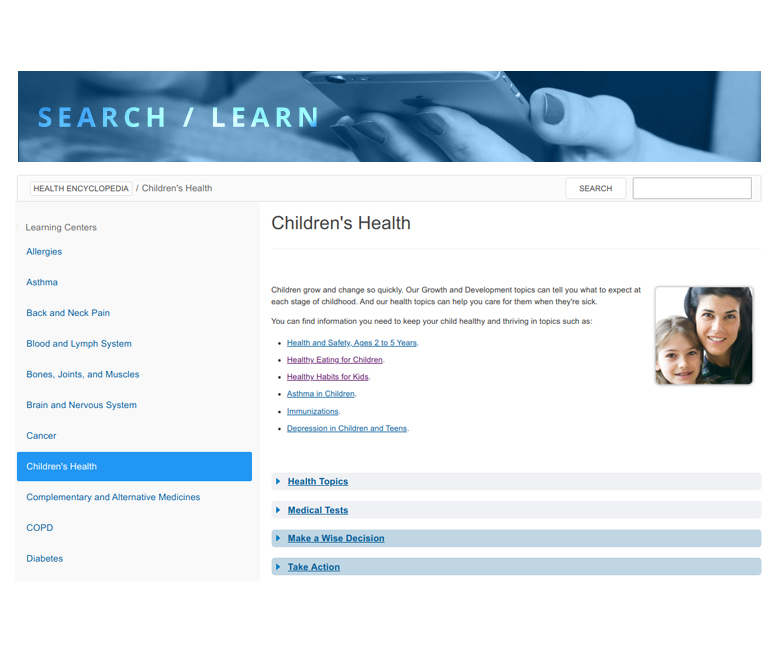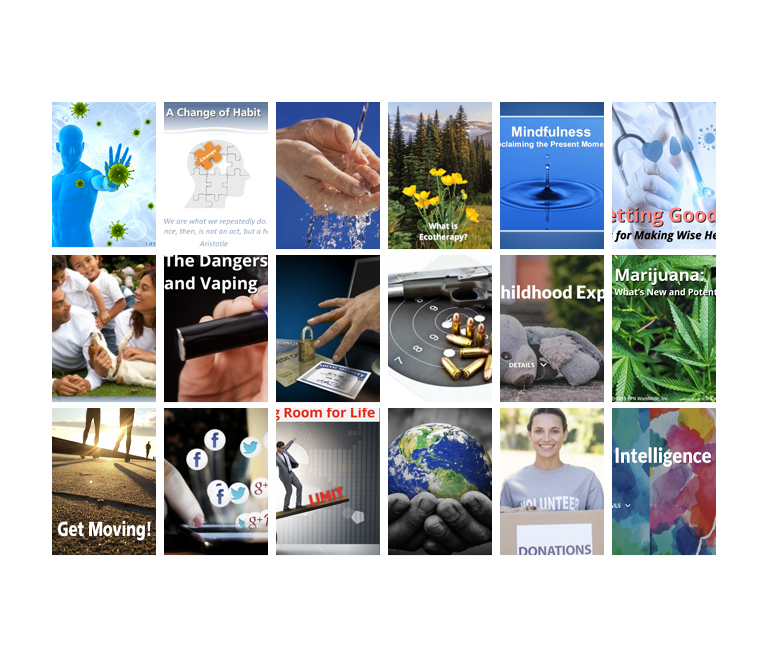 E-Learning / Online Learning
In addition to the HWKB, the online learning system offers a wide range of e-lessons and centers to learn about and develop the strengths (key insights, actions, skills) developed to help groups, individuals and families reach meaningful goals regarding health, wellness and health care.
It grows constantly considering new research, updates, issues, needs, etc. throughout each year, and currently spans:
Over 1,400 e-lesson topics - including over 400 topics available in Spanish
Battling Germs & Infections series, COVID-19 Lessons learned, Contact Tracing, and other key topics for 2020+ goals
Over 50 learning centers - core strengths helpful to everyone, and other strengths spanning a wide range of needs and goals
Intuition navigation, lesson folders, recent lessons added
Customization options:
Lesson priorities - which are seen first, recommended, required
Add new lessons in as little as 2 weeks - e.g., enrollment, what's new, how-to…
Custom lesson folders/groupings
Wellness incentive integration options - lessons as reasonable alternatives
Challenge program integration options
Other continuing education, admin & learning management options
Nearly all aspects of health, wellbeing and health care can be learned within our system.
Challenge Campaigns
Challenge campaigns are an amazing option for having fun while promoting wellness as well, available both as a standalone separate option, or integrated into WMS!
Challenge campaigns in concept allow you to "gameify" health and wellness. Assemble teams to collaboratively complete challenges and tasks which allow for friendly competition against other teams, earning badges, rewards and even real-world incentives; all while having a great time working as a team thus promoting team work and social interaction!
Campaigns can be 4-12 weeks. Pick from existing campaigns and new ones as we release them with options to adapt or design your own.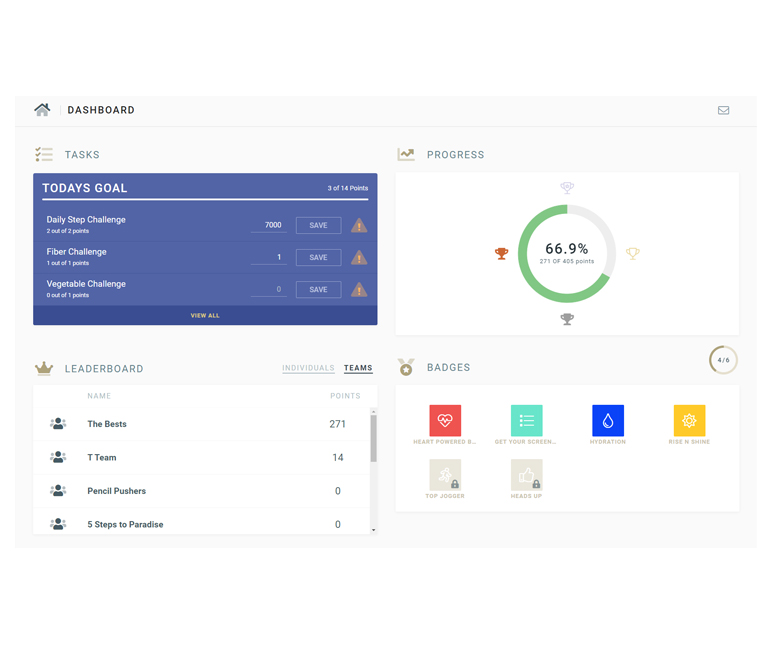 Mobile Apps
Other great options and benefits of HPN Systems' technology include the use of mobile apps available for Android, and iOS to access WMS in the palm of your hands! Our apps allow integration into the native Apple Health and Google Fit data, for a plethora of new data sources for your fitness tracking!

Administrative Functions
Our administrative functions and tools are second to none in WMS. Decision makers, organization leadership, and management will soon wonder how they ever functioned without our suite of fantastic tools dedicated to tracking every aspect of wellness, of your organization. Tools include:
Customized digital and print reporting of nearly all aspects of usage, and health data (including aggregate health reporting, and organization wide data exports).
Comprehensive analytics and engagement tracking
Ability to message and communicate with your organization's users from our proprietary messaging system; ideal for reminding of appointments, tasks needed completion, new incentives, and more!

Our APIs: Build Your Own
We also offer access to our systems through API's to utilize our data and code platform for your own internal organization's uses! Imagine being able to access our HL7 / lab data libraries for your users so your own organization's IT department can build internal dashboards and reports of their own! All possible through our cutting edge WMS API system.